VISON: A New Approach to Regional Revitalization
VISON is a resort-type commercial facility in Japan's Mie Prefecture. With the smart city concept, it has implemented a range of initiatives towards regional revitalization.
VISON is a resort-type commercial facility located in the town of Taki in Japan's Mie Prefecture, and it has been fully open since July 20, 2021. It is the first certified private facility to be directly connected to a "smart" interchange, a type of expressway equipped with electronic toll collection, and, at around 119 hectares, its total area is equivalent to 24 Tokyo Domes (the developed area is 54 hectares). On the grounds of the facility, which are carved out of a mountainous area and take advantage of the rich natural environment, buildings are made using locally produced timber, embodying the origin of the name VISON (in Japanese, the character for "beauty can be pronounced "bi" or "vi", and the character for "village" can be pronounced "son"). VISON has 73 commercial establishments, including spa facilities, a hotel, one of the largest direct markets in Japan for local agricultural products, stores from food manufacturers offering "hands-on" experiences, restaurants that use local ingredients and that are supervised by famous chefs, and an organic farm.
Large-scale commercial development through collaboration between industry, government, and academia
The inception of this project stretches back to 2013, when, under the guidance of hot spring and restaurant facility operator Aqua Ignis Corporation's Representative Director Tetsuya Tachibana, the town of Taki raised the idea of creating a facility related to town development. In 2012, Aqua Ignis Corporation opened an integrated facility called "Aqua Ignis," focused on hot springs in Yunoyama Onsen in the town of Komono, Mie Prefecture. This project demonstrated Mr. Tachibana's strong management abilities, as he was able to double the number of tourists visiting the hot spring area annually to one million, among other achievements.

Taki is located in the center of Mie Prefecture and boasts a long history of development as a major transportation hub through which the old Ise Honkaido, Kumano Kaido, and Wakayama Betsukaido roads pass. It now also hosts the Seiwa-Taki Junction, which comprises the Ise Expressway and Kisei Expressway, and is around 15 minutes by car from Ise Jingu. This abundance of advantages in an excellent location is what led to the concept for development, and subsequently, the envisioned scale of the project grew as considerations progressed. This was not a project that Aqua Ignis Corporation undertook by itself; in 2015, the limited liability company Mie Hometown Creation Project was established as a joint venture alongside four other companies with ties to Mie Prefecture (Aeon, Rohto Pharmaceutical, and First Brothers), and the development has been carried out in cooperation with the town of Taki, Mie University, and other parties.


Looking for more insights? Never miss an update.
The latest news, insights and opportunities from global commercial real estate markets straight to your inbox.
Three facility concepts
While it is not uncommon for commercial facilities to be developed for solely the purpose of regional revitalization, this facility actually has three focuses. These are: a focus on having abundant expertise in gastronomy and food culture, a focus on Taki's historic and multigenerational knowledge of medicinal herbs, and on being a core facility for the smart city concept that makes full use of technological innovations. VISON aims to be a model for regional revitalization that goes beyond a simple commercial facility.

1. Gastronomy

There are none of the national chains of family restaurants or convenience stores at VISON. Instead the focus is on a lineup of establishments that embody expertise in food. An example of the kind of establishments on site is the direct market Marché VISON, overseen by Paris-based Michelin Guide 1-star chef Ryuji Teshima, which includes space for light trucks so that producers are able to easily set up a stall. In addition to this, VISON features a fishmonger that sells and prepares deep-sea fish including nodoguro (Blackthroat Seapearch) procured by Mie Prefecture's only trawler and tuna from Nachikatsuura, as well as a butcher store directly managed by a local farm specialized in Matsusaka beef. VISON is a champion of gastronomy, with restaurants overseen by famous chefs including renowned pâtissier Hironobu Tsujiguchi, farm-to-table pioneer and Italian cuisine chef Masayuki Okuda, and Masahiro Kasahara, well-known for his Japanese restaurant "Sanpi-Ryoron." There is also the hands-on "WA-VISON" zone, which hosts stores featuring products that exemplify Japanese culinary culture such as miso, soy sauce, mirin, and konbu. VISON's "San Sebastian Street," a reference to the "Certificate of Friendship" that exists between Taki and the famous paradise of gastronomy, San Sebastian, in Spain, hosts three popular local bars and the "Koji Saryo café," from miso manufacturer Marukome, among other establishments.
The range of establishments boasts an appealing variety in its lineup, and VISON emphasizes initiatives that leverage the power of its diversity. One example is an initiative aimed at reducing food waste in which on-site restaurants cook with unsold seafood and vegetables from Marché, rather than simply disposing of them. In addition, by selling a wide variety of the produce from Mie Prefecture, such as seafood, agricultural products, and Japanese beef, at its direct farmer's market, VISON aims not only to convey its appeal to its visitors, but also to enhance brand value by bringing together local ingredients and the famous chefs.

2. Medicinal Herbs

Edo Period herbalist Genjo Noro was born in Taki, and for generations the town it has been known for its medicinal herbs. The Honzo Area is a modern take on a regional resource, and along with the Honzo Spa, which offers baths with water containing kusuri-yu medicinal herbs developed jointly by Rohto and Mie University, it also hosts an on-site research center. At this center, research on medicinal herbs from Mie Prefecture is undertaken from a modern perspective. This line of inquiry is devoted to the study of botanical ingredients that can work to preserve the health of the body and mind.
3. Technology

Five towns and Taki, had previously proposed a concept for a wide-area linked super city in Mie Prefecture, with the other towns being Odai, Meiwa, Watarai, Taiki, and Kihoku. VISON is a testing ground for this concept. Having come about through regulatory reform, VISON (an integrated long-stay facility) will be the focus area for a range of practical experiments, and serves as a pilot case for future plans, to be rolled out to the six towns in the future. In partnership with 30 companies including the SoftBank Group, JAL, and Mitsubishi Electric, VISON shall bring together advanced technology in eight fields that affect all aspects of daily life including medicine and healthcare for local residents, mobility services, regional industry revitalization, and digitalization, with the aim of solving the social issues faced by the people of the region.
Given that the VISON's grounds are expansive and privately owned, this makes the area particularly suitable for experiments involving self-driving vehicles and drones. A road is located on the grounds especially for self-driving vehicles, and experiments in self-driving are currently underway. Ultimately, the aim is to expand the use of this technology in the region to provide an alternative means of transportation to bus routes, which have been losing revenue due to a decline in the number of passengers. These experiments will also be used to verify the use case of telemedicine systems, with a view toward solving the issue of medical facilities shortages in areas experiencing depopulation.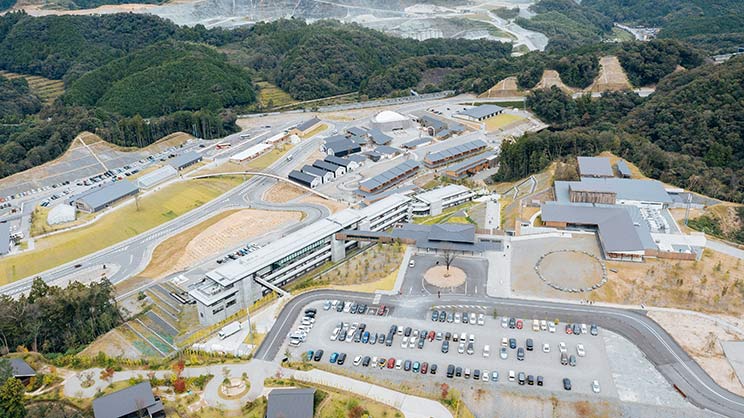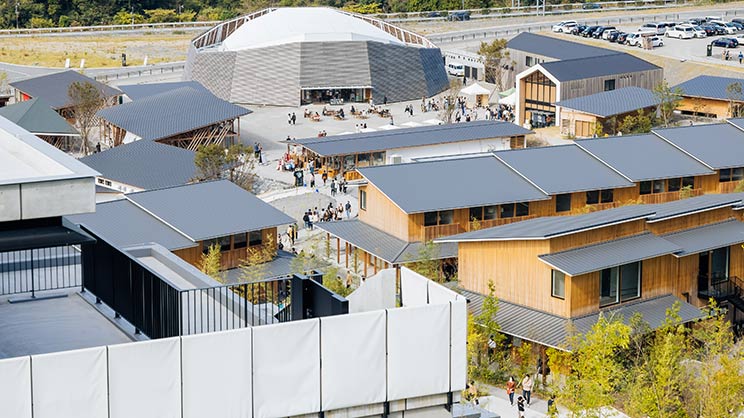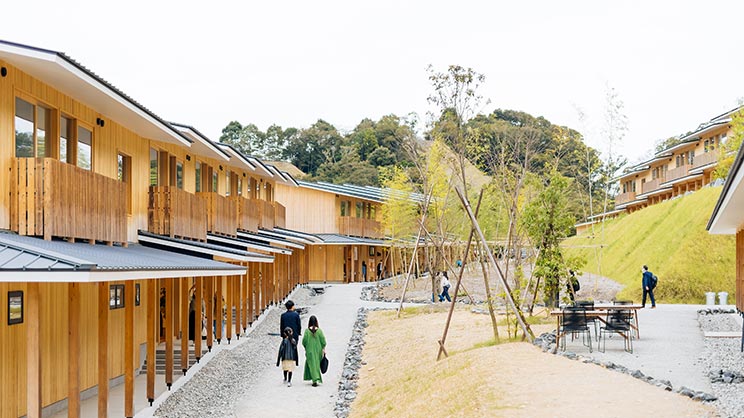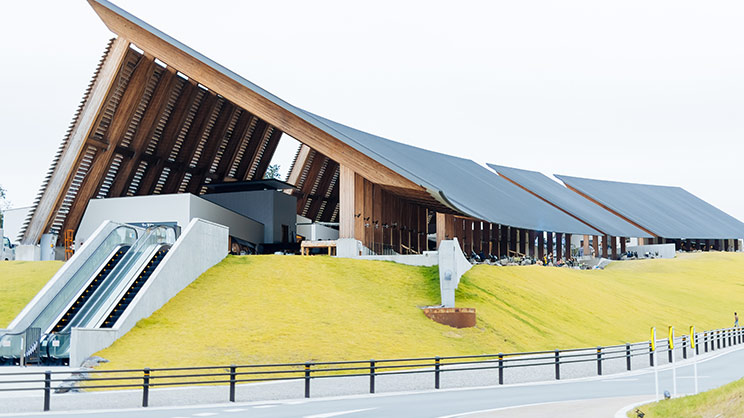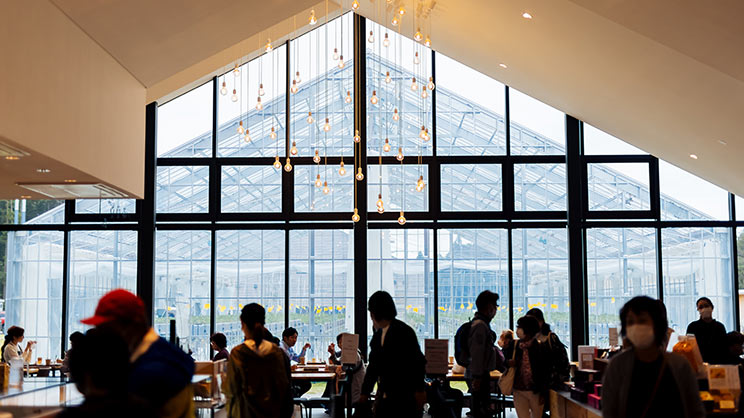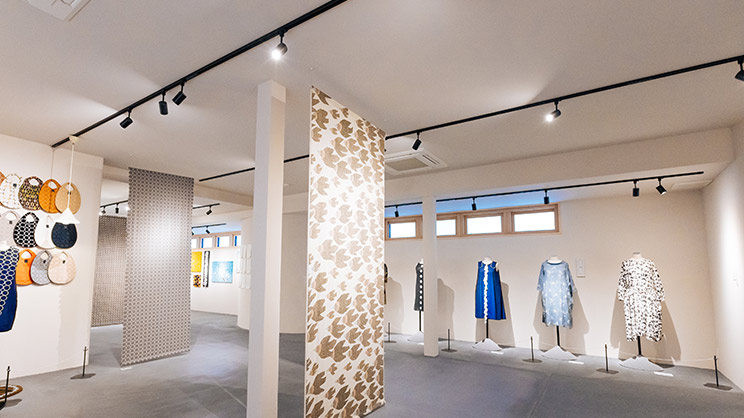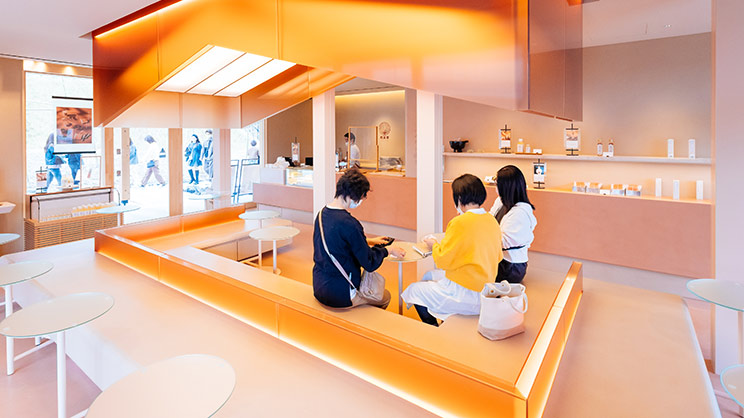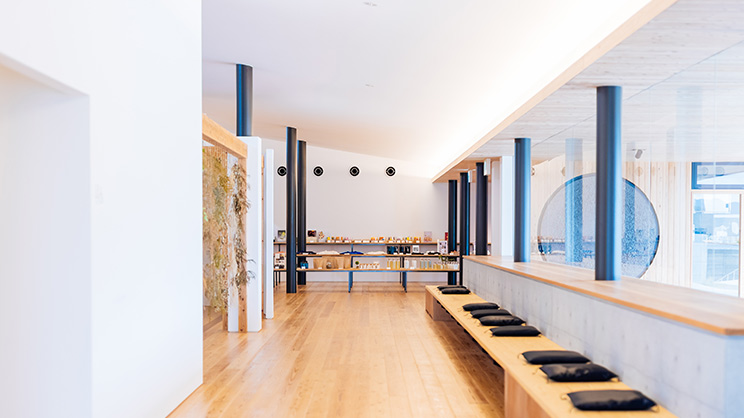 Long-term vision for regional revitalization
Although there are normally few advantages to opening a new store compared with urban centers, a diverse range of tenants have joined VISON, including companies with no presence in any other commercial facilities and major corporations. This has resulted in an attractive and unique tenant lineup that cannot be offered by any other commercial facilities. Mr. Tachibana first states that "the most difficult part was the leasing activity," before going on to state that he is proud of the success of the leasing process, saying that "it was the result of persistently explaining VISON's long-term vision for regional development and endorsement of this vision."
In general, development projects for large-scale commercial facilities are based on a 20-30 year fixed-term land lease, and eventually the land is returned after it is cleared. However, the Mie Hometown Creation Project owns VISON's land and buildings, which, according to Mr. Tachibana, makes it possible to "build a facility that will last for 100 or 200 years." In other words, VISON can contribute to regional revitalization under a long-term vision. This contribution might be through the provision of "a place where people feel proud to work" (in the words of Mr. Tachibana) thanks to the involvement of the many famous companies, restaurants, stores from famous designers, and other establishments that VISON hosts, bringing about a U-turn for the future of the area and helping to create jobs for the younger generation. With the opening of VISON, jobs for around 1,000 people have already been created. Furthermore, the buildings dotted around the grounds use large quantities of locally produced timber. VISON will work together with local carpenters and other tradespersons to maintain the buildings by replacing the wood of the buildings every 20 years, following the way in which the wood of the Ise Jingu is periodically replaced. While this will result in costs being incurred, this is nonetheless important to support the forestry and construction industries, which are local industries.
In July 2021, bus routes from the Tokyo area, Nagoya, Matsuzaka, Ise, Toba, and Nanki will be established, and this is anticipated to bring a further increase in visitors. Mr. Tachibana has set out an operational policy of "placing the highest emphasis, not on profit for VISON alone, but on the revitalization of Mie Prefecture," and the aim is to lift the demand for accommodation in Mie Prefecture as a whole through the spillover effect of VISON's appeal, which is anticipated to see eight million visitors per year.

Will this be a successful case study in regional revitalization through the development of a commercial facility? All eyes will be on VISON going forward.

VISON - Opening Support / Master Property Management Contract